Double skin cleansing: Genuine deep cleansing
While cleansing is essential for healthy skin, double cleansing of the face is a method that delivers spectacular results in terms of holding onto youthfulness and making for a radiant complexion. Here's how it's done.
What is it, exactly?
Usually, you remove make-up and cleanse the face in a single step with a single product. You use make-up remover (cleansing milk or micellar water) without water, sometimes followed by a toner. Or you use a cleanser and water: a foaming one, for example. "Double cleansing" is a two-step routine whereby you remove your make-up and then cleanse your face. First you remove your make-up, then you wash your face, which combines the benefits of the two. First you remove your make-up, with an oily formulation such as a make-up remover oil or balm, to get rid of oily impurities such as make-up, excess sebum and some pollution particles.
Then you use a cleansing formulation such as rinse-off foaming gel or micellar water (rinse-off or non-rinse).
The point of double cleansing is that it removes all of the impurities. The oily formulation dissolves oily substances, like make-up and dust trapped in the layer of sebum and sweat on the skin's surface. After that, the water-based cleanser really cleanses and removes any residue to thoroughly purify the skin. Whereas single cleansing does not get rid of all of the impurities, and as it is non-rinse, some residues just get spread around on the surface of the skin. Double cleansing leaves the skin healthy, clean and primed for skincare products, without any harsh treatment. It's as if you are removing all the "build-up" that would otherwise have been mixed in with your face cream.
The benefits of double cleansing
It boosts the effectiveness of skincare products
Double cleansing deep cleanses the skin, thereby gently getting rid of all the impurities and promoting better penetration and absorption of the active ingredients in skincare products.
Stronger skin
By getting rid of the impurities that suffocate and compromise the skin, double cleansing keeps the skin barrier intact and strengthens it. Since it is better oxygenated, it can breathe again. The skin is clear, fresh and ready for you to carry on with your beauty regimen. Skin cleansing boosts cell regeneration overnight, thereby delaying premature skin ageing. You wake up to better- rested, smoother, more radiant skin.

Kind to the skin's hydrolipidic film and microbiome
The skin is delicate. It's important to take care of it, and to favour non-foaming formulations that cleanse without upsetting the physiological balance of the skin barrier. This new skin-cleansing regimen reins in the loss of water and lipids from the epidermis. It makes fine lines less noticeable. You can say goodbye to that crepey, sallow look typical of thirsty, dried-out skin.
In the NACRE ÉCLAT range from BLUE SKINCARE, we recommend using Metamorphosis Balm in the evening, followed by Milky Micellar Water. The special feature of these two cleansing products is that they do not foam up. This means that the skin's hydrolipidic film and microbiota are kept intact and its pH level stable. The skin is not stressed and hold onto its radiance.
Suitable for sensitive, reactive skin
In some cases, double cleansing can also turn out to be an unexpected solution to soothe intolerant skin that needs nothing more than to be freed of the impurities that take their toll on it. This "skin-enhancing" kind of make-up removal is very virtuous, and can be practised at any age to make for clearer and quite simply healthier skin.
Method
This method may be called "double cleansing", but don't worry, it doesn't take twice as long. The two steps flow into each other quite naturally:
• Double cleansing, step 1:
Simply apply a make-up remover oil or balm, massaging it into your face with your fingertips to thin out the texture. This will remove all oily particles, even the most stubborn ones such as waterproof formulation residues, and also all pollution components and sunscreen. Then remove the excess with a damp flannel or reusable wet wipe.
In the NACRE ÉCLAT range from BLUE SKINCARE, Metamorphosis Balm is perfect for removing and then dissolving all the impurities built up during the day, as well as waterproof make-up. This is a bountiful, comforting balm that keeps all its promises. A formulatory concept straight out of Japan. This technology yields a soft, melting sugar gel packed with plant-based oils and non-foaming cleansing sugars: a pure delight for skin that feels dry and uncomfortable. Applying the balm with the fingertips is a comforting sensory experience. Massaging it in relaxes the skin, and gives a genuine feeling of wellbeing. Rinsing with clean water tops off this relaxing sensation with an instant feeling of fresh, clean skin.
• Double cleansing, step 2:
Then apply a micellar water or rinse-off cleanser to your face, following the directions for use. Massage it in for a few seconds to allow the cleansing agents to work, then rinse with clean water until all of the product is gone (note that micellar water comes in rinse-off and non-rinse variants). Then, gently pat the skin dry with a cloth before applying skincare products suited to your skin type.
In the NACRE ÉCLAT range from BLUE SKINCARE, the milky consistency of the Micellar Water makes it even more comforting and gentle on the skin. Enriched with cleansing micelles and balancing pre- and postbiotics, it is the perfect skincare product for effortless cleansing. This is a half-water, half-milk cleanser with a surprisingly evolving texture, to be applied after Metamorphosis Balm. As fluid as cow's milk, Milky Micellar Water turns into a delicately-scented refreshing water.
The key to clean, soothed skin: don't skip rinsing Micellar Water, so that you get rid of all of the impurities as well as cleansing agents, which are to blame for irritation and that feeling of tightness.


What skin type is it for?
Double cleansing is suitable for all skin types. There is a misconception that those with oily skin should avoid oil and only use astringent cleansers. But these products strip oily skin which, in response, produces... Even more sebum as a pushback and to defend itself! So while those with oily skin should use light, non-greasy skincare formulations, this is not the case for cleansing products. Oil cleanses oily skin very effectively, without making it greasy or being harsh on it! In addition, double cleansing works deep down to rid the skin of impurities that could clog the pores and lead to blackheads and blemishes. A serious asset for oily and combination skin.
Lastly, cleansing oil or balm gently envelops dry or sensitive skin to prevent irritation. Then you use a rinse-off cleanser chosen according to your skin type. It tops off an effective double cleansing regimen that keeps the hydrolipidic film intact, addresses redness and relieves that feeling of tightness.


The right time and the right frequency

Double cleansing is to be done daily, especially if your skin is exposed to pollution, be it fine particles in the city or pesticides in the countryside. The method is also perfect for winter sports, or after spending time on the beach sweating and layering on sunscreen. It rids your skin of the sunscreen and any impurities that are stuck to it by the end of the day.
Lastly, double cleansing is recommended for those times in the menstrual cycle when the skin becomes more oily. This is because it gets cleansed more effectively and oxygenated by using two gentle cleansing products one after the other than with a single one that is too astringent. Double cleansing is also necessary when the skin dries out and needs more care to feel comfortable, especially during the menopause.


What are the right products to use, and how?

For oil-based make-up removal, use a make-up remover oil or balm that allows you to massage it into the face thoroughly while dissolving all the greasy particles clinging to it. It does so because only oil can dissolve oil. The balm also turns into milk when it comes into contact with water.
For phase 2 of double cleansing, choose your rinse-off cleanser according to your skin type. For example, a cleansing cream can address redness and soothe the itching that those with reactive skin are only too familiar with. Conversely, for combination or oily skin, use a foaming gel with anti-bacterial active ingredients for a fresh clean feeling, without irritating the skin.
Lastly, bear in mind that micellar water removes make-up and cleanses while soothing the skin.
You should generally opt for dermatologically-tested dermocosmetic cleansing products. These keep the pH stable and the microbiota intact. They are suitable for all skin types, including the most sensitive.
FAQ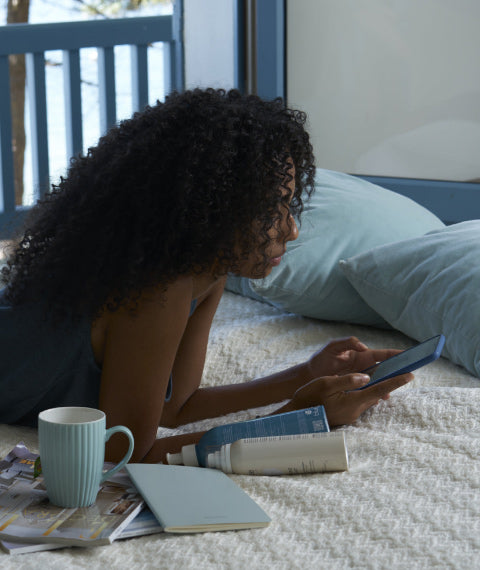 When should you double cleanse?

Double cleansing can be done on a daily basis to thoroughly cleanse the skin, or occasionally when it is exposed to a lot of impurities (pollution, make-up, waterproof make-up, sunscreen, etc.).

How do you double cleanse properly?

First, use a make-up remover with an oily base such as an oil or balm, and massage it in thoroughly to dissolve all the particles of pollution or make-up. Then "rinse" it off with water by washing your face with a formulation suited to your skin type, or with micellar water.

What's the difference between cleansing and double cleansing of the face?

If you cleanse your skin in the conventional way with a single product, this may not be sufficient or maybe too harsh, stripping the skin. By using an oily make-up remover first to remove oily, thick impurities, and then a rinse-off cleanser, you make sure that the skin is perfectly free of impurities, oxygenated and clean before applying skincare products.
La routine
Skin Cleaning Routine
A radiant complexion requires a reinforced skin barrier, capable of protecting the skin from external aggressions.Get a new skin with NACRE ÉCLAT.
I'll buy it!
1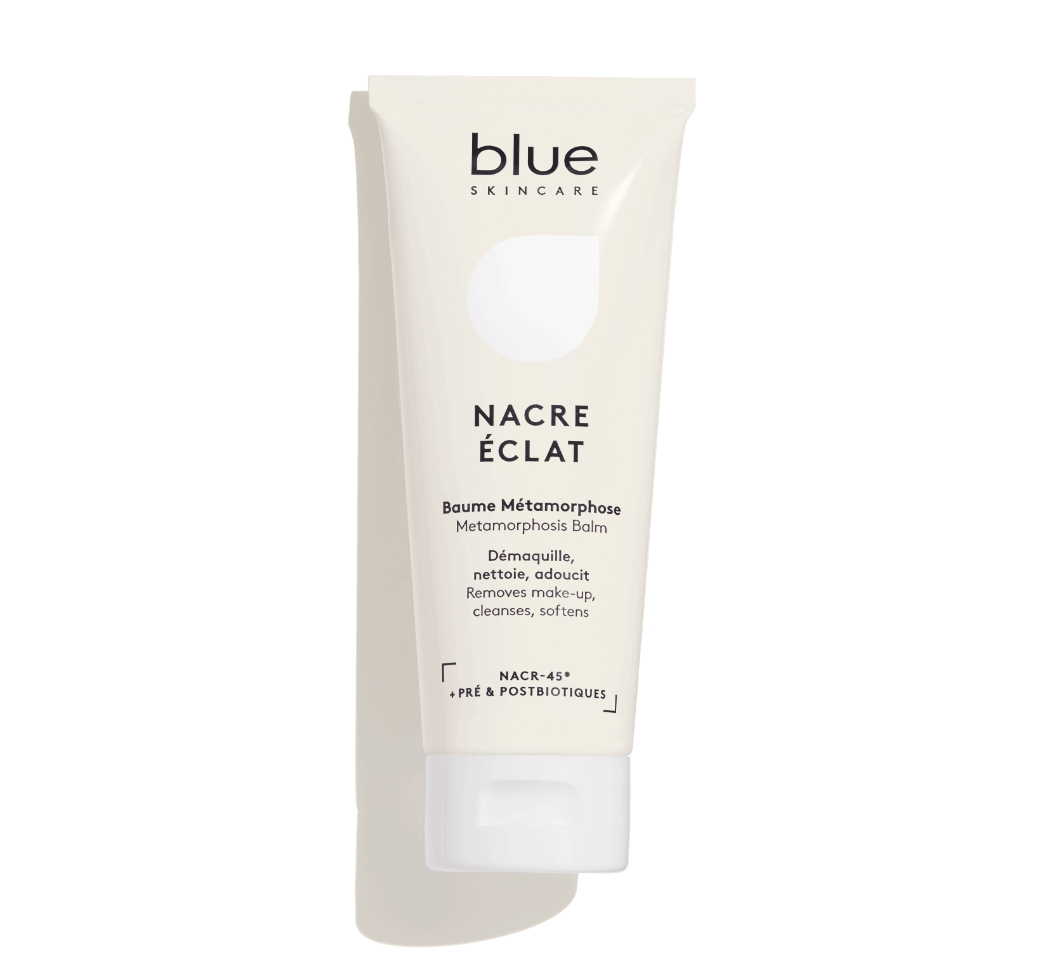 Removes make-up & Cleanses
METAMORPHOSIS BALM
2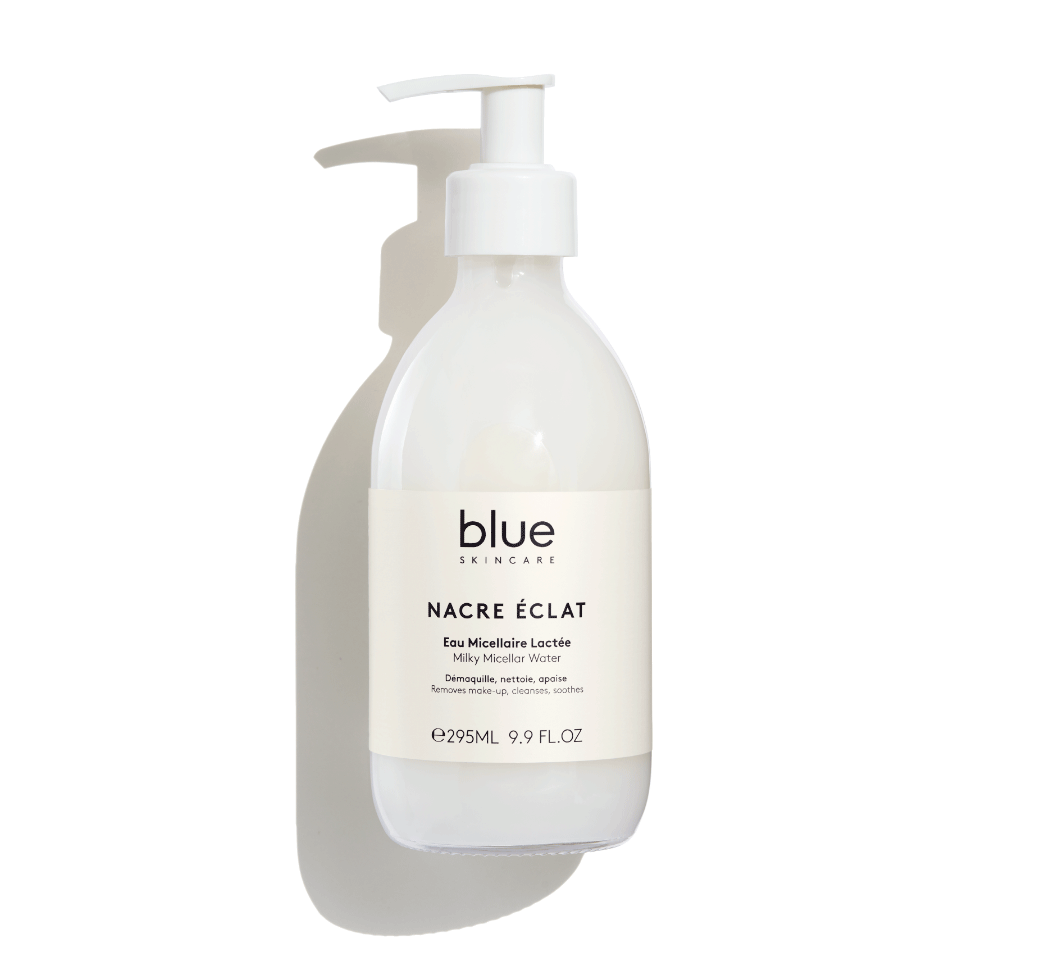 Removes make-up & Cleanses
MILKY MICELLAR WATER