Radiance : Beautiful/perfect skin routine
Beautiful/perfect skin routine
To have beautiful, plump, blemish-free skin with an even texture and a radiant complexion requires a minimum of rigorousness: a consistent skincare routine and a healthy lifestyle. The beautiful skin routine is to be followed with all the solutions against a dull and tired complexion.
Strategy Out:
A simple and consistent anti-dull skin routine
Going to bed without removing your makeup, applying a skincare product from time to time, or on the contrary, stripping your skin with too many scrubs... so many missteps that can explain a dull complexion and a worn-out face. That's why, as soon as we become adolescents, we should develop good habits and try not to stray from them:
1 - Cleansing in the morning and evening
All skin specialists - dermatologists, facialists, cosmetologists, etc. - are formal: a good cleanse and make-up removal is the first and most important care to fight against a dull complexion. There is no point in applying the best or most expensive creams if the skin has not been cleansed beforehand.
Cleansing twice daily is essential and must be incorporated into one's daily routine from a very young age, just like brushing your teeth. It is important to choose products with gentle surfactants that maintain the skin's pH and microbiota, and that you will enjoy using. This is the solution to dull skin, to be adjusted according to your skin type, of course.
- In the morning, it is essential to wash away the excess sebum that has built up during the night. Combination skins should choose a rinse-off treatment or a slightly astringent lotion, while a mist should suffice for dry skins.
- In the evening, you should wash off your makeup even if you haven't worn any because while makeup protects against pollution and dust, bare skin is even more exposed. Especially for combination skin, double cleansing with an oil-based balm, and micellar water or a lotion for dry skin, is recommended. We recommend using the Metamorphosis Balm from the BLUE SKINCARE NACRE ÉCLAT range, whose cleansing power is +30% compared to skin cleaned with water alone. Using the Milky Micellar Water will complete this double cleansing. Applied with fingertips, it gently removes impurities.
A quick beauty tip: always apply the product with your fingertips to encourage cellular interaction and relaxation of facial lines. After all, friction is what irritates the skin, especially around the eyes, where the skin is particularly fine and delicate.
2 - Protect, moisturise, nourish
A glowing complexion means healthy skin with a resilient skin barrier that prevents the penetration of pathogens and excessive water evaporation. However, the skin is subject to temperature fluctuations, UV rays, pollution, and oxidative stress.
To maintain a good cellular structure of the stratum corneum and to withstand all these aggressions, it is necessary to provide protective and moisturising care, concentrated in active regenerating ingredients that strengthen the skin barrier (NACR-45® active mother-of-pearl powder), antioxidants, moisturising agents (high and low molecular weight hyaluronic acid), pre-and post-biotics which regulate the microbiota, and vitamins with multiple anti-ageing effects, particularly vitamin B3 (niacinamide) which also enhances radiance. It is also recommended to use a treatment with lactic acid to gently refine the skin texture and to revive a dull complexion. For this purpose, we recommend using BLUE SKINCARE's NACRE ÉCLAT range, Skin Renewal Serum for regeneration, and Isotonic Nacre Water to rebalance the skin. To moisturise and protect the skin, apply the Moisturising Regenerating Cream from the same product range.
3 - Exfoliating regularly
Once or twice a week, enzymatic peels, scrubs (with granules), or exfoliating lotion, refine the skin texture and promote renewal, as well as cellular interaction. A practical and effective solution, the daily Skin Renewal Serum, is a moisturising and regenerating treatment containing lactic acid to gently smooth the skin texture and revive the dull complexion of a fatigued face.
In strategy: A healthy and diverse diet
A dull skin care routine for the face is essential but not enough. You also need a healthy lifestyle, since we know that the skin reflects both our psychological and physical (especially intestinal) state.
1• A balanced diet
To minimize the risk of imperfections, avoid dairy and sugary foods. And for radiant skin, we favor a diet rich in antioxidants (red, yellow, orange, green fruits and vegetables), prebiotics (the fibers contained in vegetables) and probiotics (unpasteurized fermented foods: cheeses, yogurts, kefir, kombucha, miso, sauerkraut, kimchi, pickles, cider vinegar).
2• Hydration, essential
Even if the skin is the last served, drinking 1.5 liters of water (or green tea and infusions) helps to hydrate but also to eliminate toxins that dull the complexion. Note that coffee, alcohol and sodas do not count in this liter and a half because they have the opposite effect: they dry out, cause bloating and digestive problems, and even buttons for alcohol and sodas.
3• Support food supplements
Because it is difficult to do everything perfectly, and an imbalance - whether intestinal or cutaneous - is frequent, we can support all the functions of the body and in particular with food supplements, obviously including probiotics for regulate the microbiota, anti-free radicals against oxidative stress, antioxidant and stimulating vitamin C, moisturizing hyaluronic acid, and pro-immune and anti-acne zinc.
For beautiful, luminous and resistant skin all year round, we advise you to add the Skin Perfecting Food Supplement from the NACRE ECLAT range by BLUE SKINCARE to your beauty routine. Ultra concentrated in hyaluronic acid, pre and probiotic and in active pearl powder, NACR-125® it allows to have a stronger skin, better armed to defend itself from external aggressions.

Finally, for beautiful skin – and a good life – good oxygenation is essential. It allows the blood to circulate better and therefore to provide the organs and therefore the skin with all the nutrients necessary for their proper functioning. And so to oxygenate well, we go out, we practice physical activity and deep and controlled breathing, as in yoga or meditation.
Routine IN&OUT
FALL EDITION
Un teint éclatant passe par une barrière cutanée renforcée, capable de protéger la peau des agressions extérieures.
Retrouvez une peau neuve avec NACRE ÉCLAT.
I'll buy it!
FAQs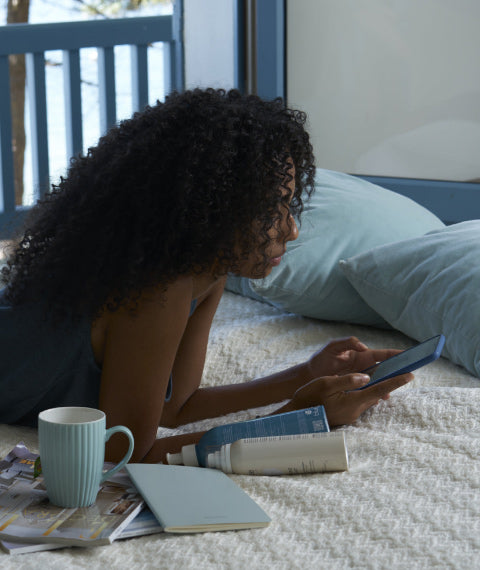 How to get perfect skin?

The first step to beautiful skin: a good cleanse, morning, and evening adapted to your skin type. To be completed by daily moisturising and antioxidant care, enriched with pre- and post-biotics to balance the microbiota, vitamins, and hyaluronic acid. And since beauty comes from within, don't forget to drink a litre and a half of water a day and eat a well-balanced and nutritious diet!

What is the best routine for imperfections?

Skin with imperfections must watch their diet by avoiding sugary foods and dairy products and must adopt a skincare routine that is both gentle and protective, with careful but non-abrasive cleansing and skin care products enriched with anti-sebum zinc, soothing niacinamide, and stabilising pre- and post-biotics.

The 3 essential beautiful skin steps?

Cleansing morning and evening with a gentle product adapted to one's skin type

Protecting with a treatment that maintains the skin's barrier

Moisturising (from the inside and the outside)